07 Mar 2023
World Tuberculosis Day 2023
Add to my calendar
24/03/2023 2:00 pm
24/03/2023 4:00 pm
Australia/Melbourne
World Tuberculosis Day 2023
Doherty Institute Auditorium, 792 Elizabeth Street
DD/MM/YYYY
WHEN
24 Mar 2023
2.00 - 4.00pm
WHERE
Doherty Institute Auditorium, 792 Elizabeth Street
WORLD TB DAY
Friday, 24 March
Commemorating the day that Dr Robert Koch announced the discovery of the bacterium that causes tuberculosis in 1882, World TB Day is an opportunity to raise awareness of the ongoing impact of the disease on health, social and economic wellbeing. The 2023 theme, Yes! We can end TB! invites hope that the community committed to ending TB globally can get back on track in the lead up to this year's UN High-Level Meeting on TB. This call to action asks - how will you contribute to end TB?
PERSON-CENTRED CARE TO END TB
We can end TB acknowledges the collective power of a community committed to a world free of TB. The theme emphasises the significance of engaging with those affected by TB, civil society, and government to achieve this goal.
Person-centred care is recognised as a foundation to high-quality health care. At its core is respecting and responding to the values, needs, and preferences of those accessing healthcare. The MTBC looks to explore what person-centred care looks like in the setting of TB, the importance of a shared language to empower for change and promote meaningful engagement.

EVENT PROGRAM: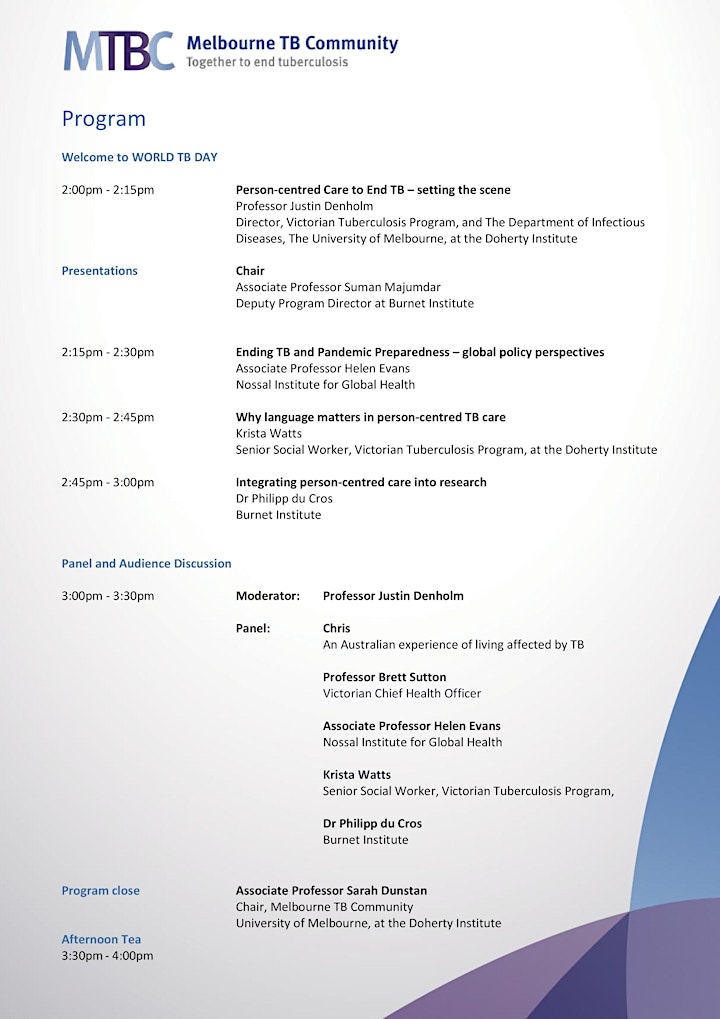 Events Archive