26 Apr 2018
$1.5m secured for world-first Buruli ulcer study
A world first transmission intervention study to stop the spread of a flesh-eating bacteria in Victoria has received the green light thanks to a $1.5 million Partnership Project grant from the National Health and Medical Research Council (NHMRC).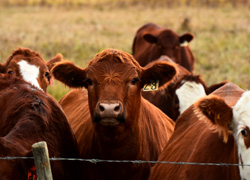 While Mycobacterium ulcerans infection – or Buruli ulcer as it's more commonly known – predominates in West Africa, cases have been increasing exponentially in coastal Victoria, specifically the Bellarine and Mornington Peninsulas, with 275 cases recorded in 2017.
Twenty years of collaborative research has identified mosquitos as the vectors of the disease to humans and possums as the wild life reservoir. Buruli ulcer is a destructive skin and soft tissue infection that can lead to permanent functional or cosmetic deformity. Treatment for is complex, requiring multiple antibiotics for prolonged periods and occasionally reparative surgery.
Led by University of Melbourne Professor Tim Stinear from The Peter Doherty Institute for Infection and Immunity (Doherty Institute), in partnership with the Department of Health and Human Services, Mornington Peninsula Shire and Barwon Health, the ambitious, two-year study will seek to prove that targeted mosquito control in Buruli ulcer infected areas will substantially reduce the incidence of the disease in humans.
Professor Stinear said he was delighted to receive the funding.
"While we have made major advances in detecting and treating Buruli ulcer, there remain major questions to resolve around disease transmission," Professor Stinear said.
"This funding will allow us to build on a large body of collaborative research and hopefully find a way to stop this disease completely."
Additional researchers from the Doherty Institute will form part of the project team including Professor Paul Johnson, an infectious diseases physician from the Austin Hospital and Director of the World Health Organization Collaborating Centre for Mycobaterium ulcerans, Western Pacific Region; and Dr Katherine Gibney, a Royal Melbourne Hospital infectious diseases physician and medical epidemiologist.
Professor Sharon Lewin, Director of the Doherty Institute, congratulated Professor Stinear and his collaborators.
"We have had an extraordinarily unusual outbreak of this infection affecting Victorians," said Professor Lewin.
"I hope that the project will identify how to eliminate transmission in Victoria and hopefully, these findings can be translated to Africa, where the disease is most prevalent," said Professor Lewin.
"This body of work is a shining example of why the Doherty Institute was created – to bring scientists, clinicians and public health experts together to prevent, treat and cure infectious diseases of major global significance."
News Archive