21 Aug 2023
Advancing pandemic preparedness with novel therapeutic platform to combat viral pathogens
Researchers at the Doherty Institute, with collaborators from The University of Queensland's National Biologics Facility and industry partner Biointelect Pty Ltd, are developing a novel therapeutic platform technology to combat viral pathogens with pandemic potential, thanks to the support of Health Security Systems Australia (HSSA), a division of DMTC limited.
The project, led by University of Melbourne's Dr Adam Wheatley, Laboratory Head at the Doherty Institute, aims to generate effective preventative and therapeutic measures against infections caused by viruses of pandemic potential.
By harnessing their expertise in the development and technical know-how of monoclonal antibodies (mAbs) (specialised proteins engineered to imitate the body's natural defense mechanisms), Dr Wheatley's team will create mAbs targeted to neutralise Orthopoxviruses such as monkeypox and smallpox, as well as Henipaviruses like Nipah and Hendra, addressing the rising challenge caused by these viruses, particularly in the Asia-Pacific region.
Project partners from The University of Queensland will assist with preliminary manufacturability assessments, while our Biointelect partners will assist with future regulatory, clinical trial and commercialisation planning for the mAbs.
Dr Wheatley underscored the importance of establishing platforms for pandemic preparedness, drawing a valuable lesson from the COVID-19 experience.
"A painfully important lesson from COVID-19 is that treatment and prevention options need to be developed in advance of widespread outbreaks to maximise impact. This demands the establishment of proven pipelines for rapidly translating novel targets into therapeutic candidates as a vital element of preventing, or fast-tracking our response to, a future pandemic outbreak," he said.
Dr Felicia Pradera, General Manager at HSSA, expressed the importance of collaborative and innovative projects in strengthening Australia's medical countermeasures capability and addressing the escalating challenges posed by viral infectious diseases.
"A broad spectrum therapeutic against viral pathogens with pandemic potential is a vital requirement to enhance sovereign health security. We look forward to working with the team to help develop this capability," she said.
"The Medical Countermeasures program has been an enduring priority theme of Defence's investment in game-changing technologies, and health security is also increasingly being acknowledged as a key component of national security."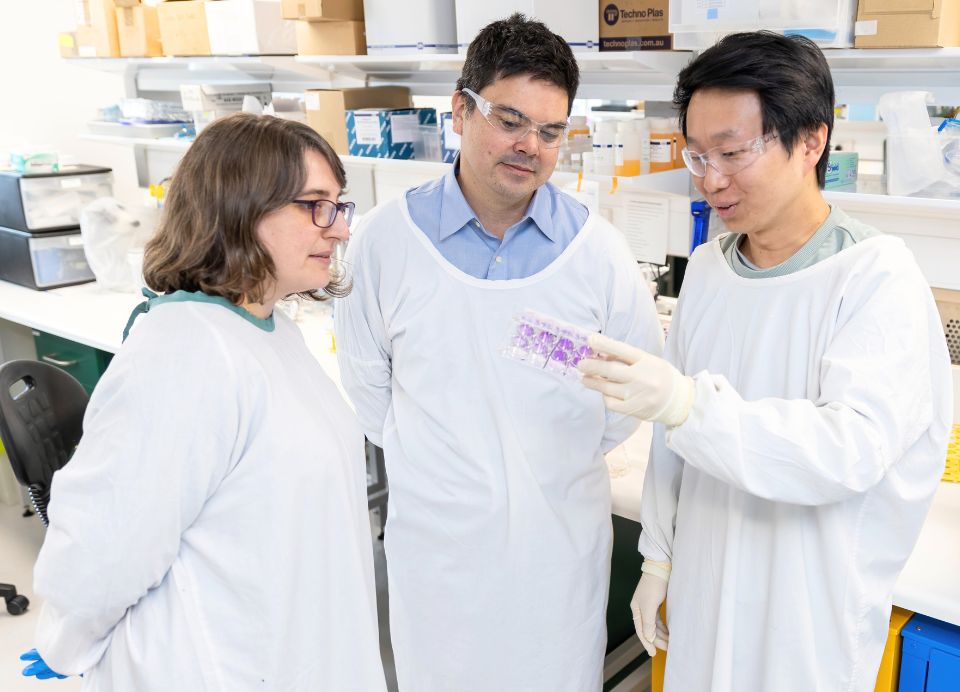 Dr Jennifer Juno, Dr Adam Wheatly and Dr Wen Shi Lee, all part of this project (Photo Courtesy of DMTC Limited. Photographer: Cesar Nicolas)
News Archive