27 Apr 2023
Centre for Pathogen Genomics facilitates training in Nepal
The Centre at the Peter Doherty Institute for Infection and Immunity (Doherty Institute), University of Melbourne, is an academic and training hub that supports collaboration between complementary groups working in the area of pathogen genomics to promote opportunities for research, capacity building and training in infectious diseases preparedness and response across the Asia Pacific.
Pathogen genomics is a powerful tool that is increasingly being used by public health laboratories to rapidly identify and characterise pathogens. This approach involves three distinct stages – whole genome sequencing of isolates from clinical samples (wet lab processing of samples), bioinformatic analysis of the genome of the pathogen (also referred to as 'dry lab'), and finally interpreting and reporting these results to inform public health actions.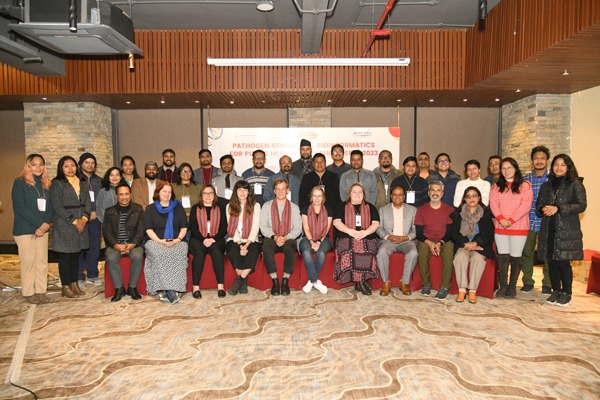 Trainers and attendees in Kathmandu, Nepal
Recently, The Centre was invited to Nepal by the Birat Nepal Medical Trust (BNMT); the Center for Molecular Dynamics – Nepal (CMDN); the Epidemic Intelligence project partners Nepal Health Research Council (NHRC); Oxford University Clinical Research Unit (OUCRU); and Liverpool School of Tropical Medicine to deliver training in pathogen genomics for public health.
A team of five scientists from the Centre facilitated the workshop, which was held over the course of five days in Kathmandu and focused on the bioinformatic analysis aspect of the pathogen genomics. The content encompassed viral and bacterial genomics, and its use in both research and public health settings.
The training was conducted in two parts, with the first two days designed for a broad audience and consisted of a series of lectures to increase participants' knowledge of bioinformatics.
The final three days went into more detail with the application of this knowledge and included hands on practical activities using common genomic analysis tools to analyse viral and bacterial genomes as well as real life case studies demonstrating how genomics can be used to support public health investigations for a smaller group of attendees.
It was a positive experience for all involved, with one of the trainers travelling from Melbourne, Dr Kristy Horan, noting "The delegates at the workshop were amazing! The level of engagement and enthusiasm was outstanding, it made the workshop fun and so rewarding. It was a pleasure to work with a group of such driven scientists."
"Nepal has built substantial capacity for molecular diagnostics and surveillance of infectious diseases during the COVID-19 pandemic, but still faces a major skills gap in people with advanced training to analyse and interpret the data generated." Says Dr Maxine Caws, Principal Investigator of IMPACT TB and a Senior TB Researcher at the Liverpool School of Tropical Medicine, currently based at BNMT Nepal.
"This course was a first step in building a cadre of local data analysts able to translate pathogen genomic data to real world, evidence based public health interventions. The course was exceptionally well received by all our participants and our feedback evaluation resounded with loud cries of "more please!". We hope to welcome the fantastic CPG team back to Nepal soon for Round 2!"
The Centre has several capacity building and training initiatives planned for the rest of this year, both overseas with various partners and on-site in Melbourne, Australia. If you're interested in hearing about these, you can sign up to our newsletter here.
News Archive