25 Jul 2017
New global coalition to lead efforts towards a cure for hepatitis B
Spotlight on hepatitis as deaths from liver cancer overtake lung cancer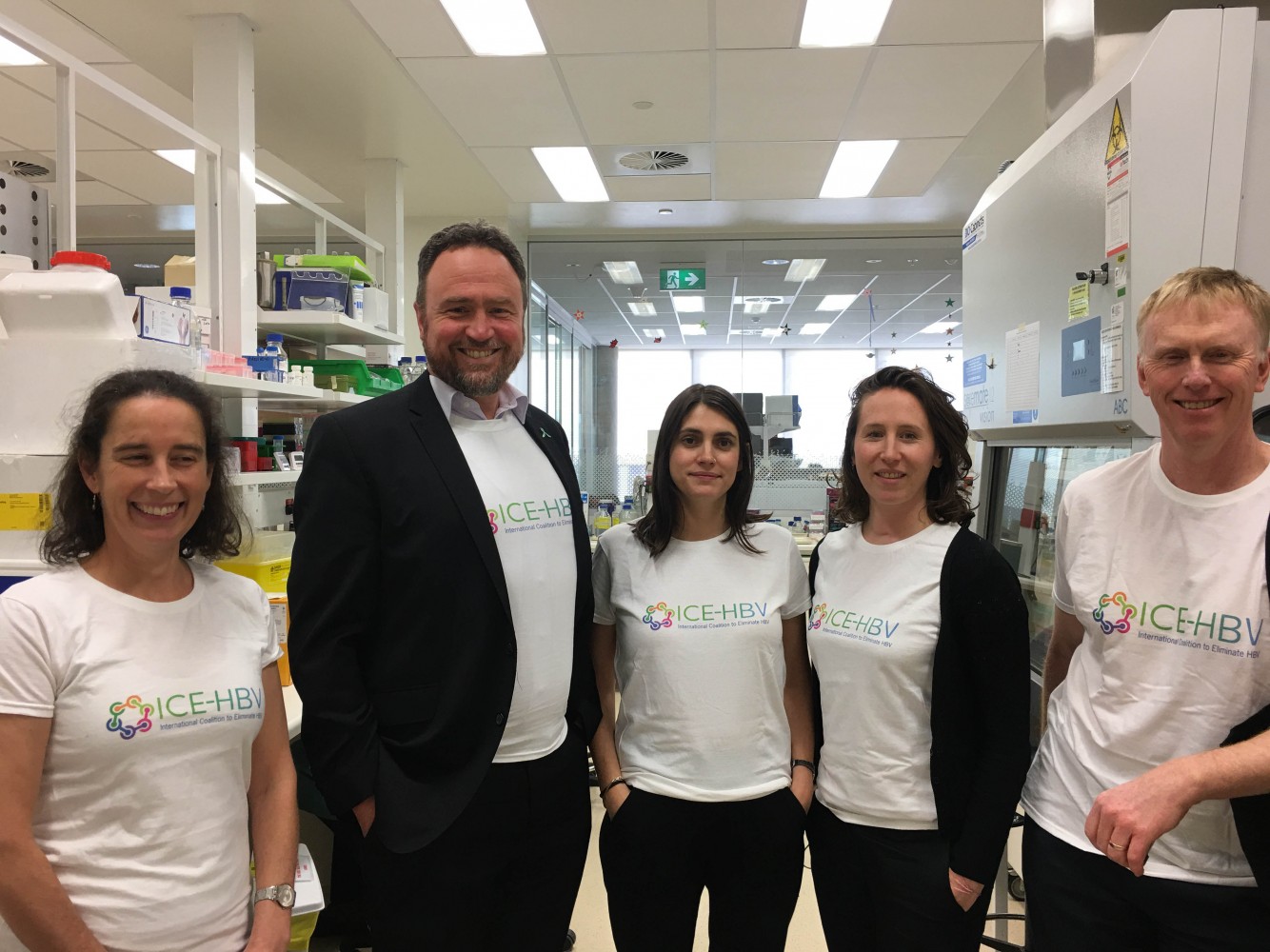 Hepatitis researchers at the Doherty Institute celebrating the launch of ICE-HBV
In the lead-up to World Hepatitis Day this Friday, a new global coalition is calling on Australia to take a leading role in finding a cure for Hepatitis B, which claims the lives of more than 300,000 people in our region each year, and is a major reason why liver cancer is becoming the fastest-growing cancer in many parts of the world.
The International Coalition to Eliminate Hepatitis B Virus (ICE-HBV) is bringing together researchers, patient representatives, global health organisations and the pharmaceutical industry to work towards a cure – a prospect that is closer as a result of advances in the science allowing researchers to examine "viral reservoirs" or virus cells that evade the immune system.
ICE-HBV Chair, Associate Professor Peter Revill, said viral hepatitis now needs the same passionate engagement from government, organisations and communities that has brought about a cure for Hepatitis C, and remarkable progress in research and treatments for HIV.
"Hepatitis B has a visibility problem, yet it is a massive drain on the ability of millions of people to live happy, healthy and productive lives," Dr Revill said.
"While we now have a hugely successful vaccine for newborns that prevents about 95 per cent of new cases, millions of people who are already infected remain undiagnosed and untreated, and are on their way to cirrhosis and liver cancer," Dr Revill said.
HBV causes liver cancer, which is already the second leading cause of cancer death in the world. The World Health Organisation (WHO) estimates that primary liver cancer may overtake lung cancer as the No. 1 cause of cancer deaths globally by 2020.
The coalition is led by the Peter Doherty Institute for Infection and Immunity, in partnership with France's HIV and hepatitis research agency, ANRS, and the convenors of the International HBV Meeting (an annual research forum).

The Western Pacific region, which includes Australia, is one of the worst-affected regions in the world, with more than 115 million people living with HBV.
"Recent scientific advances make this the perfect time to accelerate hepatitis B cure research," Dr Revill said.
"Our first step will be to create road map to guide the field to a cure, and to influence government policy to free up more funds for cure research and development."
ICE-HBV is hosting a World Hepatitis Day symposium, 'Towards Hepatitis Elimination' at the Doherty Institute on Friday. Details and registration here.
Ice-hbv.org
News Archive