29 Mar 2023
Solomon Islands Fellows travel to Melbourne for Antimicrobial Stewardship training
The COMBAT-AMR project, funded by the Department of Foreign Affairs and Trade Indo-Pacific Centre for Health Security, has previously assisted the Solomon Islands with building diagnostic capacity for COVID-19, and another key area for development is that of Antimicrobial Stewardship (AMS).
This focuses on training and mentorship to build capacity for improved measurement and ongoing monitoring of the appropriateness of antibiotic use, as well as the capability to manage antimicrobial stewardship. To this end, three staff from the National Referral Hospital (NRH) in Honiara recently travelled to Melbourne for two weeks of training and learning from members of the Peter Doherty Institute for Infection and Immunity (Doherty Institute); Therapeutic Guidelines; Ballarat Base Hospital; PRIDA; and the Burnet Institute.
All have been involved in the NRH's AMS activities in the past, with this trip intended to build upon their fundamental knowledge and integrate the Solomon Islands' framework already in place for Antimicrobial Resistance (AMR). This includes: an established national policy on AMR; an active AMS Committee at the NRH; Infection Prevention and Control strategies; and a National Drugs & Therapeutics Committee.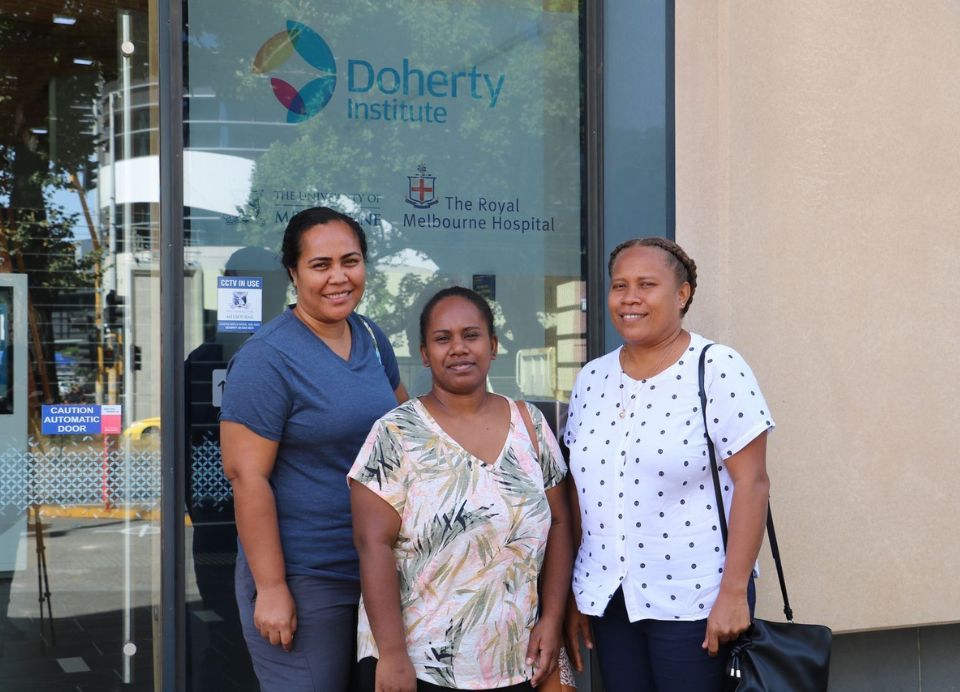 Pictured: DR Emire Meone Maefiti, Mrs Samantha Totorea Diamana and Dr Alice Siuna Waneoroa
"My early experience with AMR was looking at how drugs are used, however AMS goes beyond just prescriptions," notes Dr Emire Meone Maefiti, one of the Internal Medicine Physicians on the trip.
"It's also about the interaction of policies and guidelines, microbiology and pharmacy, with leadership as a fundamental tool for implementation."
This theme has been echoed by Dr Alice Siuna Waneoroa, another Internal Medicine Physician with a special interest in infectious diseases who also sits on the NRH AMS Committee.
"The importance of having structures all the way from government through to the people on the ground, and understanding how best to work with all key stakeholders, including laboratory staff, pharmacies, IPC and Executives."
The final member of the group to travel was NRH Pharmacist Mrs Samantha Totorea Diamana, who helps to undertake an annual audit of antibiotic treatment charts at the hospital as part of her role. This helps the team to understand trends around what is being prescribed and to assist with reducing the risk of over-prescription, and thus AMR. She shared the sentiments of her colleagues, highlighting the renewed importance of "good communication skills, networking and professional relationship among prescribers, pharmacy staff, medical laboratory staff, and all health workers in all wards and departments."
All the visiting fellows are looking forward to applying their learnings to their practices back in Honiara, taking with them the wealth of information shared during their time in Melbourne. They would like to thank and acknowledge the COMBAT-AMR program and staff at the Doherty Institute for this opportunity, and have pledged to share the knowledge and skills acquired from the program to their fellow colleagues at the NRH and the provinces.
---
News Archive